LIQUID PENETRATE
TESTING TRAINING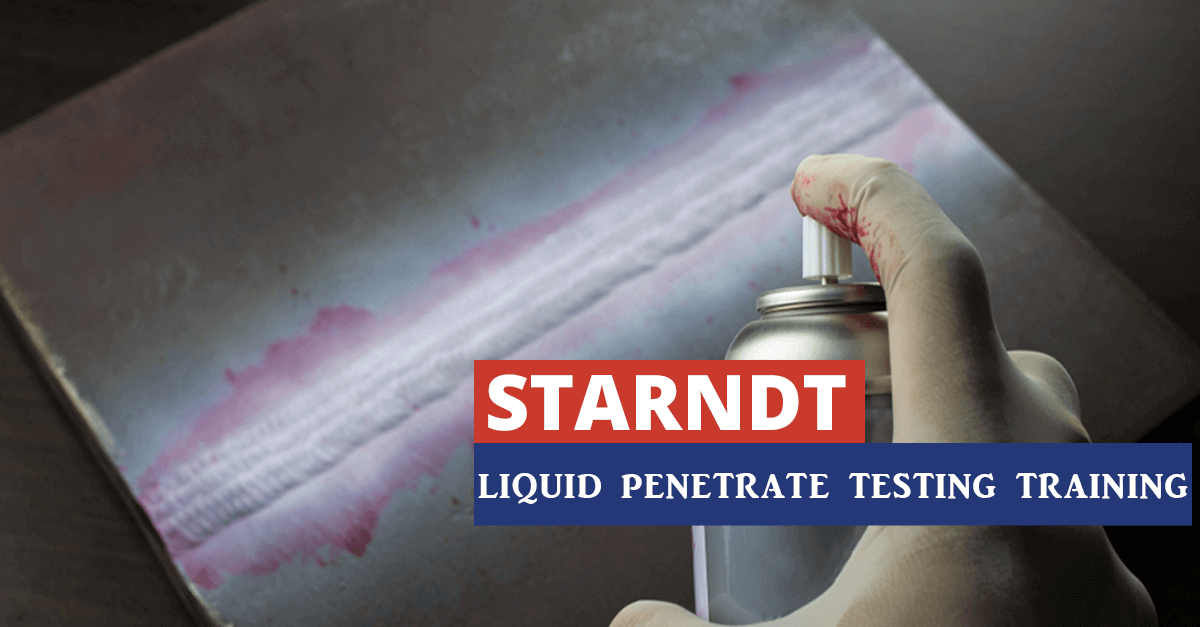 LIQUID PENETRATE
TESTING TRAINING IN HYDERABAD
Liquid Penetrant Testing Training Hyderabad (LPT) or penetrant testing (PT), is a widely applied to check surface-breaking defects in all non-porous materials (metals, plastics, or ceramics).
The penetrant may be applied to all non-ferrous materials and ferrous materials; LPI is used to detect casting, forging and welding surface defects such as hairline cracks, surface porosity, leaks in new products, and fatigue cracks on in-service components.
Liquid penetrant testing is one of the popular Nondestructive testing (NDT) methods in many industry. It is economical adapted, and requires minimal training when compared to other NDTmethods.
LPT check for material flaws open to the surface by flowing very thin liquid into the flaw and then drawing the liquid out with a chalk-like developer. Welds are the common component inspected, plate, bars, pipes, forging, and casting are also commonly inspected using liquid penetrant examination.
liquid penetrant examination has been called many names: penetrant testing (PT), liquid penetrant testing (LP), and dye penetrant testing (DP). The American Society for Nondestructive Testing (ASNT) uses the name liquid penetrant testing (PT). Lpt is another means of enhancing the capability of visual observation. It is suitable for use on smooth surfaces of all materials inclusive of magnetic as well as non-magnetic. It is limited to surface defects. Its impotence to indicate the depth or breadth of flaw should be kept in mind while selecting this method for particular application.
Use of LPT for porous materials is ruled out since the absorption into the pores would mask the presence of defects. A clean surface is a per-requisite as penetrant cannot enter in to the cracks that are filled with dirt, oil, or other forms of contaminant.
Size, shape, weight and number of work pieces to be inspected often influence the selection of a penetrant system. The desired extent of sensitivity and the cost are the most important factors in selecting a system.
LPT can also be used for leak testing. In this type, the component casting is filled with penetrant and developer is applied outside the surface.
LIQUID/DYE PENETRANT TESTING
TRAINING AND CERTIFICATION LEVEL I /II
LIQUID/DYE PENETRANT
TESTING LEVEL I:
Course Objective
This course has been developed in accordance with SNT-TC-1A to develop individuals as ASNT Level- I to perform and report Liquid penetrant Testing (LPT) results under supervision of NDT LPT Level II or Level III professionals
LPT LEVEL I COURSE OVERVIEW:
( THEORETICAL + PRACTICAL SESSIONS )
Basic principles of DPT / LPT
Types of DPT Tests
Inspections and measurements samples
Introduction of ASTM and ASME standards
Familiar with the scope and limitation of the methods
Specific & valuations
Types of solvents/ Supervision of DPT
LIQUID/DYE PENETRANT TESTING -
LPT LEVEL II TRAINING & CERTIFICATIONS
This course has been developed in accordance with SNT-TC-1A to develop individuals as ASNT Level- II the course will give acceptance or rejection determinations according to written instruction and to record results. NDT Level II personnel will be authorized to carry out PT and report the test results.
LPT LEVEL II COURSE OVERVIEW:
(THEORETICAL + PRACTICAL SESSIONS)
Basic Principles
Process of various method
Selection of the Appropriate Penetrant Testing Methods
Advantages of various methods
Disadvantages of Various methods
Inspection and Evaluation of Indications
Types of Discontinuities: Inherent, Processing and Service
Principles of Penetrant Testing
Surface Preparation of materials for inspection
Materials and Equipment used
Surface Preparation of materials for inspection
Detectability of defects
Interpretation and reporting
Post-test procedure
STAR NDT IS LEADING TEAM IN QUALITY INDUSTRY, WE PREPARE YOU IN BEST ATMOSPHERE OF TRAINING AND FLAWLESS SERVICES
contact us
ABOUT US