MAGNETIC PARTICLE
TESTING TRAINING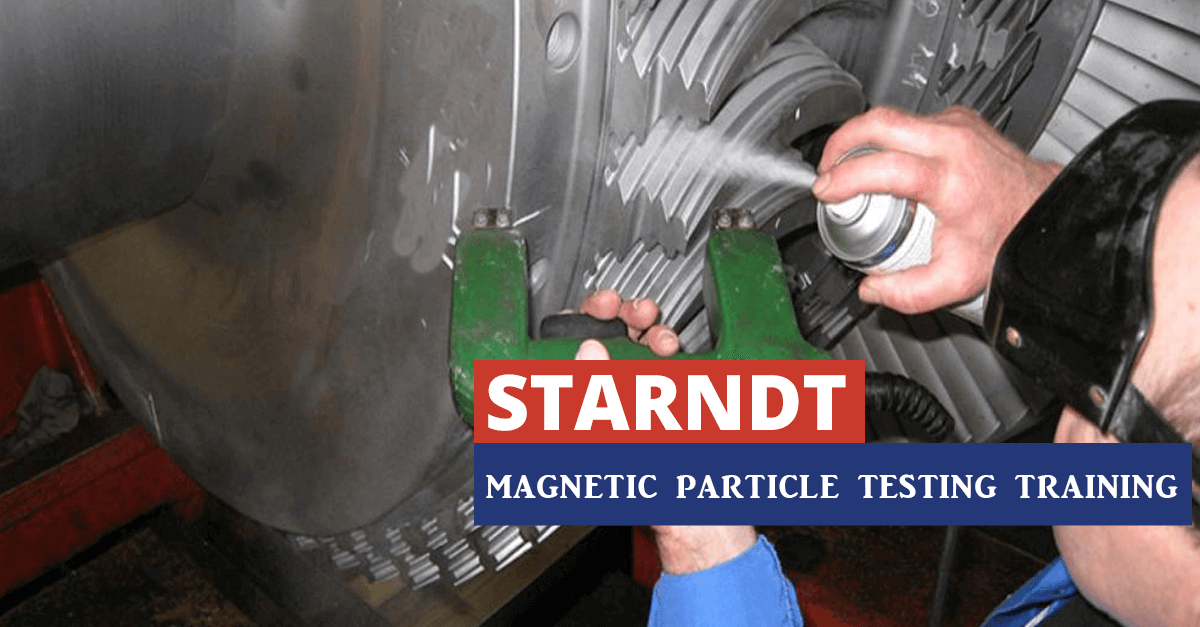 MAGNETIC PARTICLE
TESTING TRAINING IN HYDERABAD
Magnetic particle inspection (MPI) ( Magnetic Particle Testing Training Hyderabad ) is a relatively simple concept. It can be considered as a combination of two nondestructive testing methods: magnetic flux leakage testing and visual testing. Consider the case of a bar magnet. It has a magnetic field in and around the magnet.
While LPT is powerful most effective for excellent surface discontinuities, the want remains to come across bigger surface flaws or those present simply under the floor. The want is meet by means of magnetic particle Testing (MPT).
This approach is applicable only for ferromagnetic substances. MPT is a considered greater sensitive than LPT. Magnetic particle Testing requires a better degree or operator know-how to make certain that the magnetic fields are aligned in the suitable route a good way to locate the defect.
Flaws oriented the perpendicular to the prompted magnetic field are best reliably detectable. For this reason, the take, a look at is to set off magnetic area strains in a given paintings piece so that they're most probably to be perpendicular to the flaws orientation.
Consequently, previous knowledge on flaw orientation and or creation of magnetic fields in numerous directions are is vital. It's miles commonly agreed that defects breaking the surface are maximum intense amongst the diverse discontinuities happening in aspect materials.
For dynamically loaded systems, their elimination is crucial. Their detection in ferritic materials is maximum easily carried out by MPT.
Because the intensity calculation of the floor breaking cracks is almost absurd, crack depth measurements may be additionally hired to asses them. Examining the subsurface defects by using MPT is not possible if the components are skinny, but commonly it requires best testing conditions.
Magnetic partical testing can detect both surface and near-surface indications. The Surface preparation is not as critical compared to other NDE methods. Most surface contaminants that exist will not hinder detection of a discontinuity.
It is A relatively fast method of examination. Magnetic Particle Testing can Indications are visible directly on the surface. It is Low-cost compared to many other NDE methods.A portable NDE methods, especially when used with battery-powered yoke equipment. It does not Post-cleaning generally not necessary.
It is comparatively safe technique; materials generally not combustible or hazardous. The Indications can show relative size and shape of the discontinuity. Convenient to use and requires minimal amount of training.
MAGNETIC PARTICAL TESTING TRAINING
AND CERTIFICATION LEVEL I /II
MAGNETIC PARTICAL TESTING
TRAINING HYDERABAD LEVEL I:
Course Objective
This course has been developed in accordance with SNT-TC-1A to develop individuals as ASNT Level- I to perform and report Magnetic particle Testing (MPT) results under supervision of NDT MPT Level II or Level III professionals
MPT LEVEL I COURSE OVERVIEW:
( THEORETICAL + PRACTICAL SESSIONS )
Basic Principles of Magnetic Particle Testing
Types of magnets
Manufacturing / casting / forging / process
Fundamentals Magnetic Particle Testing Inspection and measurement samples
Introduction of ASME and ASTM Standards
Magnetization properties
MAGNETIC PARTICLE TESTING –
MT LEVEL II TRAINING & CERTIFICATIONS
This course has been developed in accordance with SNT-TC-1A to develop individuals as ASNT Level- II the course will give fundamentals to set up and calibrate equipment's and interpret and report results as per applicable codes, standards and specifications. Organize and report the results. Should assigned responsibility for on job training and guidance of trainees and Level I personnel.
MT LEVEL II COURSE OVERVIEW:
(THEORETICAL + PRACTICAL SESSIONS)
Principles
Theory
Flux patterns
Frequency and voltage factors
Current calculations
Surface flux strength
Magnets and Magnetism/Magnetization Methods
Manufacturing / Casting / Forging / Welding Process
Inspection and detection of indication
Test Procedure
Interpretations and reporting
Detectability of defects
Evaluation Techniques
Demagnetization methods
Codes and Standards
STAR NDT IS LEADING TEAM IN QUALITY INDUSTRY, WE PREPARE YOU IN BEST ATMOSPHERE OF TRAINING AND FLAWLESS SERVICES
contact us
ABOUT US