RADIO GRAPHIC
TESTING TRAINING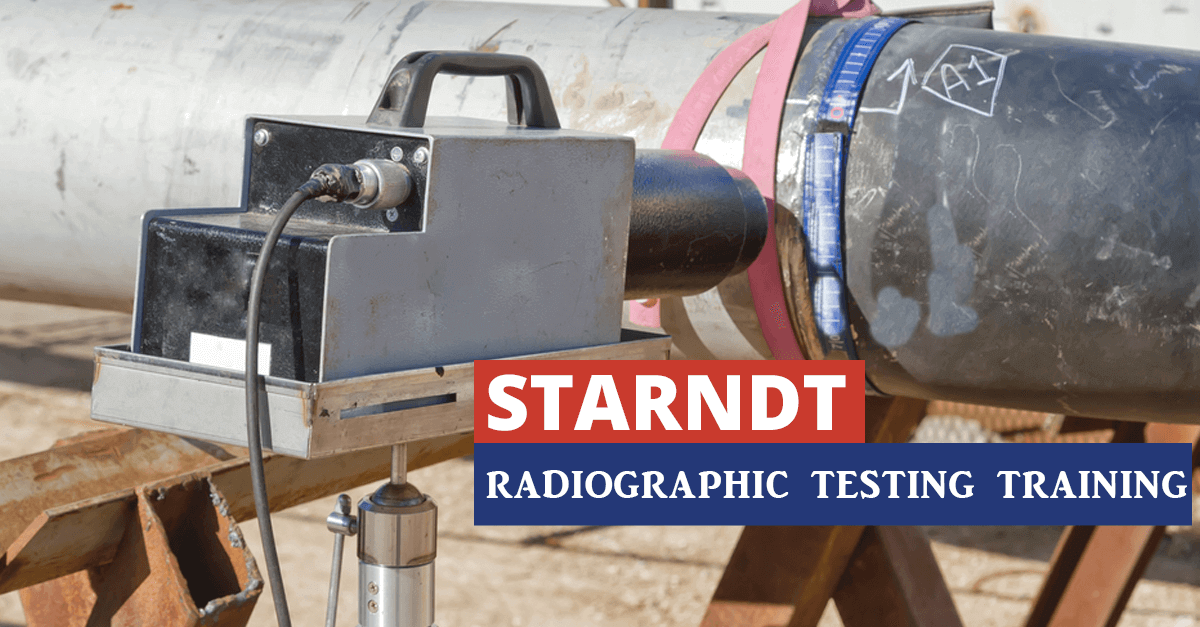 RADIOGRAPHIC
TESTING TRAINING IN HYDERABAD
Radiography Testing Training Hyderabad – NDT radiography is a basic NDT testing strategy utilized in the Petrochemical, Automotive, Aerospace, Manufacturing, Transport, Power Generation and other essential industries.
Radiography generally utilizes radiographic film to record imaging results; anyway progresses in advanced innovation have enabled access to precise and constant data.
Radiographic inspection is one of the most widely used methods of NDT as this is applied to all metals and alloys, both ferrous and nonferrous, for detection of volumetric type of defects. The range of capabilities offered by the variety of sources and equipment's has brought radiography to the forefront of NDT techniques.
Testing of multi layer vessels and welds is generally a difficult task due to in accessible inner layers. Radiography Testing is the only NDT method to evaluate multilayered vessels during manufacturing stages and in-service.
Development of micro focal X-ray units has made it possible to extend radiographic practice to meet the requirements of more stringent quality levels demanded for critical applications, besides a host of new applications.
It knows that the sensitivity in radiography depends to a large extend on the focal spot size. In micro focal radiography, the focal spot size is less than 100 microns and typically 15-50 microns as compared to a few mm or ½ a mm in conventional radiography.
Using micro focal Radiography Testing, intricate geometrical components such as tube to tube sheet. Welds can be tested with a sensitivity of even 1% of wall thickness 0-3mm. Micro focal Radiography Testing can be used for detection of micro cracks of around 25 micron in size.
Another application of micro focal Radiography Testing is to check the integrity of micro-welds used electronic integrated circuits. One of the advantages of Radiography Testing is that no prior preparation of the surface of the component is necessary.
The main disadvantage of the Radiography Testing is the possible hazards due to exposure to radiation if proper care is not taken.
Industrial radiography is utilized in the review of new component and welds to guarantee they meet the necessities of the applicable models of development. New pipelines (counting bend and joints), storage compartments and even protected materials are routinely investigated utilizing radiography.
Another regular use for radiography is the identification and estimation of inner defects in existing plant. The early recognition of interior defects in pipelines and plant in the oil and gas area, for instance, is basic for keeping up generation stream and for the counteractive action of possibly tragic hydrocarbon spills.
Location of Corrosion under Insulation (CUI), is another regular application for radiography. Administrators can pinpoint any imperfections without the expensive and tedious procedure of expelling and supplanting the protection.
Beside mechanical applications, NDT radiography is likewise utilized in security. There are presently gadgets accessible for examining suspicious bundles and items, which wipes out the requirement for unsafe manual review strategies.
RADIOGRAPHY TESTING TRAINING
AND CERTIFICATION LEVEL I /II
RADIOGRAPHY TESTING
TRAINING HYDERABAD LEVEL I:
Course Objective
This course has been developed in accordance with SNT-TC-1A to develop individuals as ASNT Level- I to perform and report Radiography Testing (RT) results under supervision of NDT UT Level II or Level III professionals.
RT LEVEL I COURSE OVERVIEW:
( THEORETICAL + PRACTICAL SESSIONS )
Basic principles of rays (α ,β ,ϒ)
Inspection and measurement samples
Familiar with the scope and lamination of methods
Fundamentals of Radiography Testing
Discontinuities how occurred in welding
Introduction of ASTM and ASME sections
Test procedure examples
Radiography Interpretations
Codes and practices
RADIOGRAPHY TESTING –
RT LEVEL II TRAINING & CERTIFICATIONS
This course has been developed in accordance with SNT-TC-1A to develop individuals as ASNT Level- II the course will give fundamentals to set up and calibrate equipments and interpret and report results as per applicable codes, standards and specifications.
Organize and report the results. Should assigned responsibility for on job training and guidance of trainees and Level I personnel.
RT LEVEL II COURSE OVERVIEW:
(THEORETICAL + PRACTICAL SESSIONS)
Review of Basic Radiographic Principles
Properties and production of X-rays and Gamma Rays
Radiographic-image quality parameters
Darkroom Facilities, Techniques and Processing
Facilities and equipment
Automatic film processor versus manual processing
Film handling, loading and processing
Exposure Techniques
Radiographs interpretations
Test results
STAR NDT IS LEADING TEAM IN QUALITY INDUSTRY, WE PREPARE YOU IN BEST ATMOSPHERE OF TRAINING AND FLAWLESS SERVICES
contact us
ABOUT US